CARPET RIDE: Completing the first phase of the project.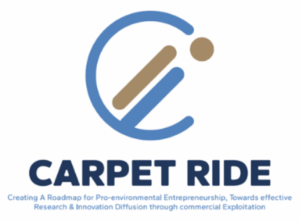 The CARPET RIDE project is a roadmap of environmentally friendly entrepreneurship. Its objectives are to describe the characteristics that publicly funded innovative pro-environmental projects must have to lead to business exploitation and to create a self-assessment tool for new pro-environmental entrepreneurship innovations.
The research process of the project is currently being completed. More specifically, the literature review and the mixed research methodology are being implemented in order to analyze in more detail the characteristics and results of existing (past or ongoing) pro-environmental projects.
More specifically, the aim of the literature review is to 
1. to review relevant projects and start-up initiatives in Greece & Europe, with the aim of developing pro-environmental products/services and creating a project inventory,
2. to review selected projects and establish specific criteria for the final selection of projects/groups to be used for this research,
3. examining the key performance indicators (KPIs) that lead the differentiated projects/groups to success; and
4. the categorization of projects according to predefined characteristics and the selection of final projects for further analysis.

 
Subsequently, this project will conduct action research, a case study and collect information from a limited number of entities (people, groups, organisations) and data from actual publicly funded pro-environmental projects and start-up initiatives.
In this project: 
a. A variety of information sources will be considered, including (but not limited to):
– EU project documents and reports (H2020, ERC, FP7, etc.) that are readily available online
– Project deliverables from completed and ongoing projects funded by the EU and Member States
– Data from Climate-KIC, ACEin , UNI.Fund and EIT Raw Materials projects.
– Data from the EU Innovation Council's Enhanced Innovation Council (EIC) Accelerator (formerly SME Instrument)
– Resources on nationally funded projects in Greece (Ministry of Development & Investment, General Secretariat for Research & Technology, local chambers of commerce, Ministry of Finance, Ministry of Environment & Energy, etc.)
– Data to be collected through direct contact with project consortia (coordinators & participants) in successful & unsuccessful pro-environmental projects
b. Text analysis will be carried out to further evaluate reports and deliverables of existing projects and extract information on existing pro-environmental projects.
c. Interviews will be conducted with selected project coordinators and/or project participants so that more detailed insights can be gained. 
d. Financial data from the reports of existing projects will be analysed.
e. Additional qualitative and quantitative data from previous projects will be collected. 
f. Questionnaire surveys will be designed based on both published media and tools that may need to be developed during this research in order to be explored:
– the specific characteristics of the project team and the project outputs produced
– other characteristics that will emerge as important for quantitative investigation during the survey
g. A software platform will be developed in order to contribute to the further data collection process required for our research.